This post is for you who dream of your winter garden but don't know where to start, what plant to buy, where to put it and especially… .how to take care! Rhymes aside, I tell you just one thing: NOW GO! Come with me and learn all about garden plants .
Setting up a garden at home, whatever it may be, is a simpler task than you might think. According to the principles of Feng Shui (ancient method of Chinese origin, to organize environments and attract good energy), the arrangement of garden and flower pots around the house can influence the well-being of the residents of the residence. Each house has its energy point corresponding to the sectors of life (such as love and work) and the major challenge for each resident is to promote harmony between them in all environments.
Many studies reveal that living with plants provides pleasure, reduces stress and considerably improves quality of life. In a way, I claim that plants have their particular powers and not only filter the air, but all the energy in the environment. That is why, dear friends, the choice of garden plants is essential for the success of your residential emotions, which leads us to believe that the correct choice of them will also activate certain areas of their lives… I already talked about this in the post about decoration for winter gardens, and how much plants are appreciated in environments such as the kitchen, for example, which unanimously concentrates energies (both from people and food, which are roughly our energetic source). Bathrooms are also places that accumulate energy, especially the heavy ones that can be minimized through the violets and succulents. In short: for each place, a specific plant.
Knowledge aside (because here we love to talk), we have produced a guide that will help you in creating your garden. At that time of the championship, I already convinced you of the importance of cultivating a portion of nature within our home. Here is a practical guide, with useful tips to even boost energies and neutralize others. Follow!
Tip 01 – Find the place for your garden
Starting with the species of garden plants that you like best, you must also find out how they behave in the light. Some garden plants demand more luminosity than others, and see that I mentioned "luminosity" which is different from sun, heat… Others, in turn, prefer shade and ventilation only.
When it comes to winter garden (check out the post on winter garden decoration that has everything there!), Popular that only they, have already occupied a reserved space in the projects of the residences. There are those who disagree, but as part of the decoration, the winter garden has the potential to add life to the environment and, therefore, we must choose the right species to favor it. But when it comes to residences devoid of spaces intended for gardens, some adaptations are necessary and, mainly, the correct choice of location. Improvisation works quite well under stairs, in entrance halls, in that ugly corridor that faces your window or door, balconies in case of apartments…
In addition to discovering how garden plants will behave in the face of sun, light and shade, it is also necessary to take into account their maintenance, watering, pruning which, despite understanding aesthetics and care, demand accessibility to perform such functions. That is why choosing the right place is essential!
In cases of external gardens it becomes easier. In spite of allowing other types of plants, with more varied sizes, the places should also be chosen due to the characteristics of each plant, whether they are floor or vases, in order to enhance walls, entrances, lawns … External areas allow lighting projects on the gardens, which further enhances your residence!
Tip 02 – Outdoor garden
Working in an external garden requires some care, even greater than the internal gardens. All this because the external gardens, as I mentioned briefly earlier, will be the supporting elements of your facade, if not the protagonists. A well-designed facade does not need much decoration, but there are cases in which the renovation, architecture or landscaping project obviously manages to make all the difference. One coat more, one less and a garden! Pan!
I usually work with residential landscaping and I realize how important this work is. And I say more, a renovated facade, mainly with a garden, can be valued up to 20%. Other than that, visually saying as a woman, consumer and also as an architect, a well-arranged garden with correct species brings another meaning to the residence. I have already followed residential projects that are totally "dry", of a high standard and lifeless that have gained meaning after the front garden. A thump certainly, but it proves how much one work complements the other and how much a garden transforms a house.
But which plants are ideal for my outdoor garden?
As I said before, each plant has its needs regarding sun and shade. That information still fits in that case, so, notice the solar incidence in the desired location and from then on, choose your species.
Buchinho
Super popular, buchinho values ​​entries when in pots, stairs when on the floor and central beds together with other garden plants. As it is a plant that grows a lot, pay attention to regular pruning to keep it always round. It is a plant that demands sun daily and directly to keep its green leaves, otherwise, they yellow and fall off.
Bamboo – Mossô
I'm suspicious, but I love this plant! Delicate that only she adds elegance to the facades. Mosso bamboo can be grown both inside and outside your home. The height of the mossô bamboo reaches 10 meters and to obtain a smaller plant, human hands are needed to flex the stem and thus reduce its size. The sculptural appearance is not born with it.
They are garden plants that demand full sun, and if they are grown indoors, it is ideal that they are placed near windows and doors for continuous ventilation.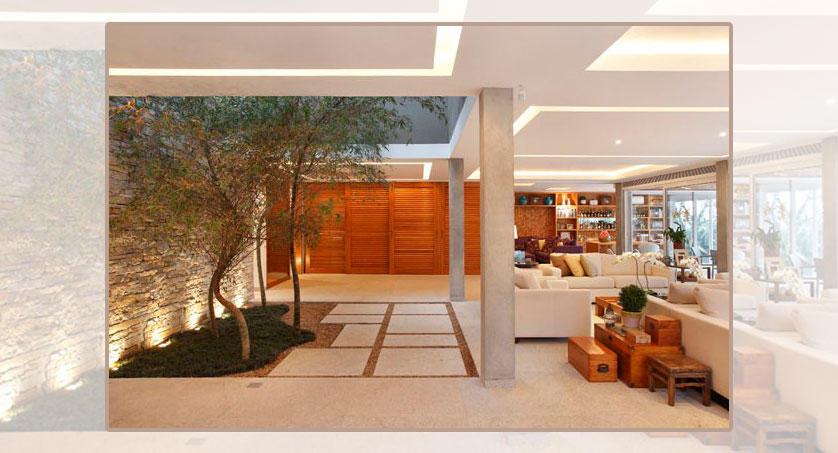 Agave
Agave is as popular as buchinho. They are great garden plants for decorating house facades and are also found in winter gardens, associated with white stones and gravel.
Agaves belong to the succulent and cactus family, and do not need watering frequently because they are very resistant to cold and heat. They are part of the range of plants for efficient, functional gardens that do not require frequent care like the others.
Estrelicia
Estrelicia is a herbaceous plant, which grows to about 1.20 meters in height, has hard, large leaves with long stems. It is much appreciated for its beauty that is exalted with the appearance of orange and blue flowers.
The small size allows to be associated with the buchinho and the double values ​​spaces, be they internal or external. See this entry highly valued by the stars.
Cica
Cicas are the oldest plants in the world and are just not more popular than buchinho. They are garden plants that are very similar to palm trees, but with very small sizes. They give elegance to the gardens in which they are inserted and value company entrances, condominiums, which can be grown in large ceramic pots or on the floor itself.
Although smaller than palm trees, the cycads are not suitable for small gardens because their crown has a diameter of up to 2 meters.
Tip 03 – Can I use flowers in my garden?
Must !! Flowers are closely related to aesthetics and the same, closely related to the variety and quality of the flowers that are found there. I separated here 8 examples of flowers available to compose beautiful and cheerful gardens. Pay attention only to the flowering period of the plants, as some bloom throughout the year, others from season to season.
Climbing Rose
From grandma's time, they are fragrant flowers that are widely used in the decoration of pergolas, as they fall and create beautiful and delicate effects. They have constant flowering, are resistant to pests and have a preference for moist and well-drained soil, where fertilization should be preferably in the spring. It can reach up to 10 meters in height, so it can be planted on terraces and pergolas, to fall or cover …
Foxglove
An exotic species that deserves attention due to the design of its flowers and delicacy. It is that little flower known as "bell" precisely because of its shape.
It can be grown as a medicinal plant because it contains beneficial properties in the control of arrhythmia or heart failure. On the other hand, its exotic beauty guarantees its frequent use for decoration, being found in pink and white colors. Although widely used in medicine, the components of this plant can be toxic, so be careful when handling it.
Carnation
For cloves reserve a moist, well-drained soil or in ceramic pots for specific cultivation. It presents a silvery foliage with fluorescent rose, with a strong and burning perfume, composing the group of the most used plants in gardens.
It blooms in the spring, requires a lot of sun and reaches a maximum of 20 cm in height.
Phlox
The phlox is a plant about 30 cm high and has dense foliage, soft green leaves. Its flowers have different shapes and colors ranging from white, blue, purple, red and pink, and it is still possible to find some mixtures between these colors. It draws a lot of attention due to its colors and wins over landscapers and gardeners due to the ease of cultivation. It has the gift of completely transforming an external space, but it behaves very well in decorative ceramic or clay vases and in flower beds.
Viburnum
This plant is a type of shrub that is especially beautiful on boundary walls and demarcating paths. Very complete and versatile, viburnum boasts white and fragrant flowers during the spring, maintaining its dark green foliage throughout the rest of the year. It does well on humid soils too and needs a lot of sun daily. It reaches 1.80m in height.
Peony Karl Rosenfeld
You have certainly seen it, but you never thought it would be called that difficult, right? A plant of rare beauty, traditionally known for its large pink and red flowers. It has a unique aroma and its flowering always happens in spring. Unlike all of those I mentioned earlier, this plant needs shade.
Astilbe
Delicate that only she, the astilbe composes beautiful gardens due to its dense foliage and flowers at the top, looking like plumes. They are found in different colors, white, pink, purple … They need moist soil to grow showy and their exuberance needs shady places.
Lilac Asessippi
With a shrub profile and large dimensions, the plant has a lavender fragrance, with refreshing notes and its flowering period happens during the spring. It needs very well fertilized soil so that the plant can grow properly. It can reach up to 12 meters in height.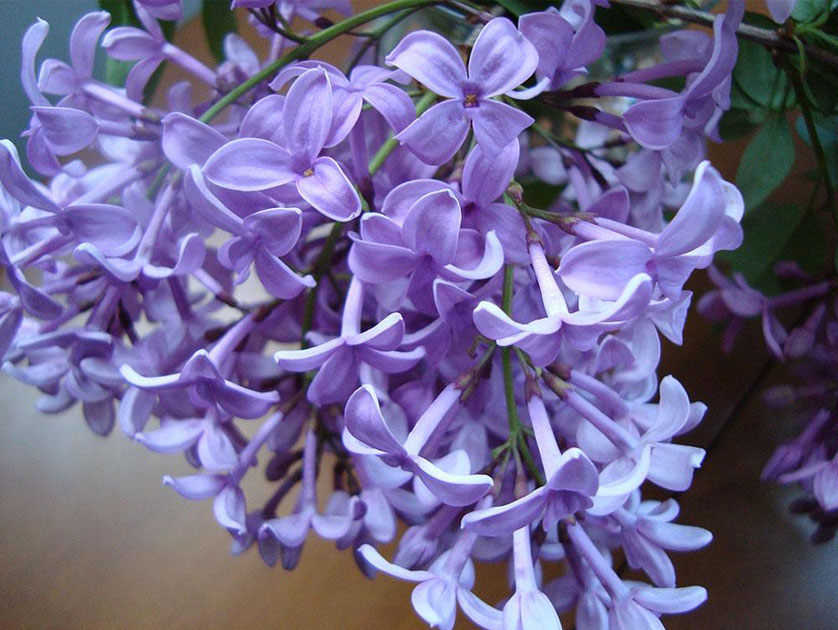 Finally, whatever your desire in relation to the gardens, you must always take into consideration what you want. The correct choice of the implantation site is fundamental for the survival of the chosen species, which, should be considered from their characteristics and mainly, through their functions, as I said at the beginning of the post.
I hope you enjoyed it and keep waiting for you for the next post!