An open terrace with unevenness has become a pleasant space with a garden accessible for wheelchair users. To tell about how this charming terrace gained a deck and garden, I spoke with Isabel Locatelli and Luiz Carlos Felizardo. They usually spend pleasant moments outdoors in the garden.
Isabel Locatelli is an advertising professional and started her professional career working with Eva Sopher, as Programming Manager at Theatro São Pedro, in 1984, later assuming the artistic direction of the theater. After, for 20 years, she was a partner at the company Solé Associados, specialized in theater projects and at PoArt Gestão Cultural, managing the Santander Cultural team since its opening. She currently works as an independent cultural producer. Married to the photographer Luiz Carlos Felizardo, they needed to transform the balcony and the garden to have accessibility, as Felizardo is a wheelchair user. They renovated the balcony floor by placing a deck so that the entire apartment was on the same level and it was possible for it to move autonomously between the apartment and the outside area.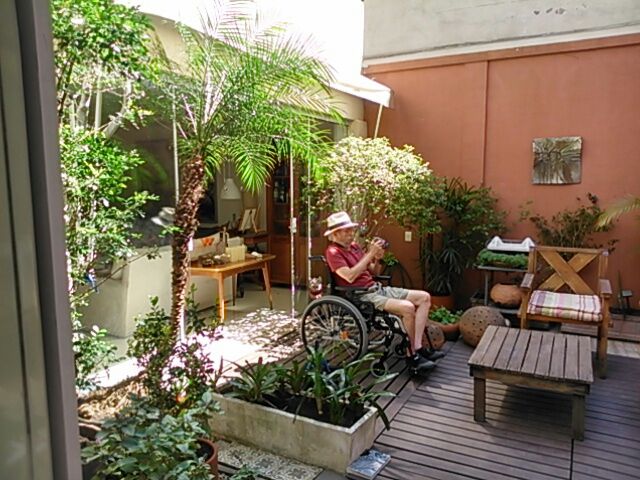 After renovating the deck, the countless old vases, plants and ornaments that they had, needed to be relocated. So Isabel called me. After visiting the place, we thought about how to renew the green of the balcony without spending a lot and reusing everything that already existed in foliage and vases. In order to revitalize the garden, we invested in a vase, plants like coverings (geraniums, spices and lavender) and in the renovation of all the soil in the pots with organic compound rich in nutrients.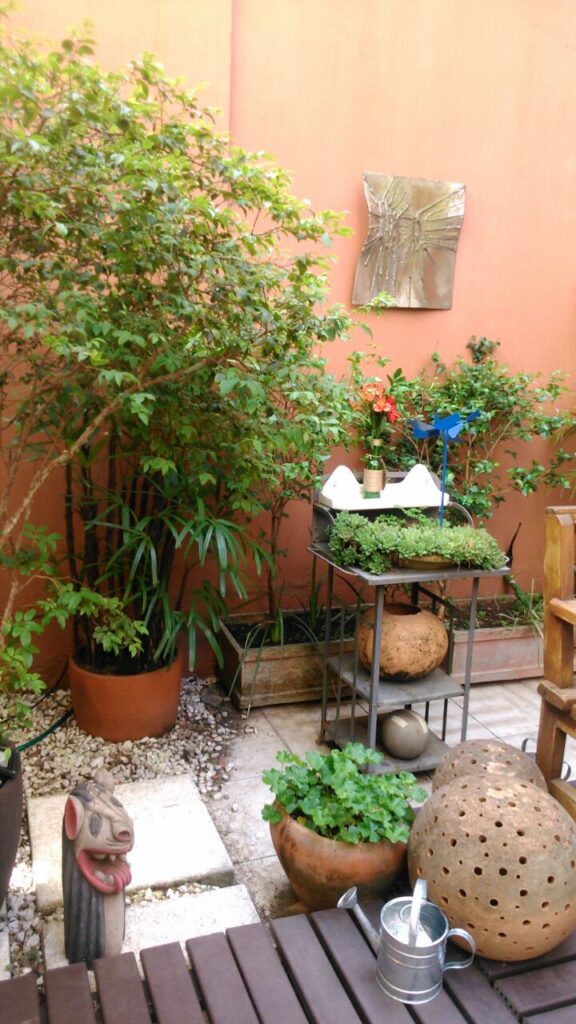 1. What was the garden like before?
The garden had a small wooden deck, which required constant maintenance, away from the access doors and the rest of the floor was in porous stone interspersed with gravel.
2. Did you put a deck to level the room? Is the deck plastic? What are the advantages?
We installed a plastic wooden deck, which is manufactured by recycling plastic products that are rejected by other companies, 100% environmentally friendly, moisture resistant, and therefore more durable and low maintenance. Now, after being fully accessible and having consultancy for the relocation of plants in order to be more free of movement, it became the noble area of ​​the house!
3. How many interesting ornaments in the garden: sign of Felizardo's father's office, sculptures, does each ornament have a story to tell?
Yes, our apartment brings together a lot of furniture and objects that are part of our affective memory – we don't like programmed decoration, it comes with our lives and, as a friend of an architect says, we let the "house talk to us". Thus, in the garden we have a plaque from Dr. Octacílio Rosa's office, Felizardo's grandfather, a sculpture by artist Gaucho Tenius, an old iron structure that supported a bowl with porcelain jar from Felizardo's great-grandmother, a bronze relief from Vasco Prado, a 1950s mirror of the Coral de Atlântida building, among other things.
4. What is the garden area?
The garden is approximately 23 m2. It is used for meetings with friends and drinking good wine, for both of us to have dinner on pleasant evenings, to have a chimarrão in the morning, as support to the barbecue area, which is glazed and contiguous. I also use it for leisure – taking care of the plants, which is an excellent therapy. After having consulted for the relocation of plants in order to be more free of movement, we are using it almost every spring night.
5. And the garden, what are you growing in the pots?
Spices like mint, basil, marjoram, rosemary, sage, parsley, chives, tarragon and also starting an attempt at lettuce, arugula, and cabbage.
6. How do you take care of the garden?
On hot days, I water daily at night, monthly I start off and I'm always putting new seedlings to fill the pots with the big plants, which I collect at friends' houses. I also really like to find lighting artifacts – when I travel, I bring small solar lamps, which create beautiful effects. New pots are always added to the side wall of the barbecue area, trying to create a small vertical garden.
7. What do you find most interesting to tell to inspire and give people ideas on how to enjoy a patio.
A courtyard is an oasis in the middle of the city – I visited more than 150 apartments until I found this one. The daily proximity to plants and the possibility of sunbathing, reading a good book, or looking at a beautiful moon, are invaluable. Growing their own organic spices encourages cooking, creating new dishes, and tasting water. Also the possibility of having friends with us, bringing our baby granddaughter who is discovering the world and will be able to play and smell different aromas is delicious.
Helena's consultancy was fundamental for us to create this very pleasant environment.
Bench style tips for sitting in the garden
The garden is not just made of plants. The furniture suitable for the outdoor area is important to enjoy the garden. Benches must withstand the weather because they are exposed to rain, dust, wind and sun. Therefore, the design and material must be suitable.
I selected some garden benches that I created in partnership with several architects. The bench must be comfortable to sit on and do not require maintenance – wood requires occasional painting.
Materials such as stones, concrete, iron and wood are used to create benches in gardens, squares and parks.
Stone and concrete bench at Tecnopuc in partnership with architect. Eliane Salvi / Works division / PUCRS Photo: Eneida Serrano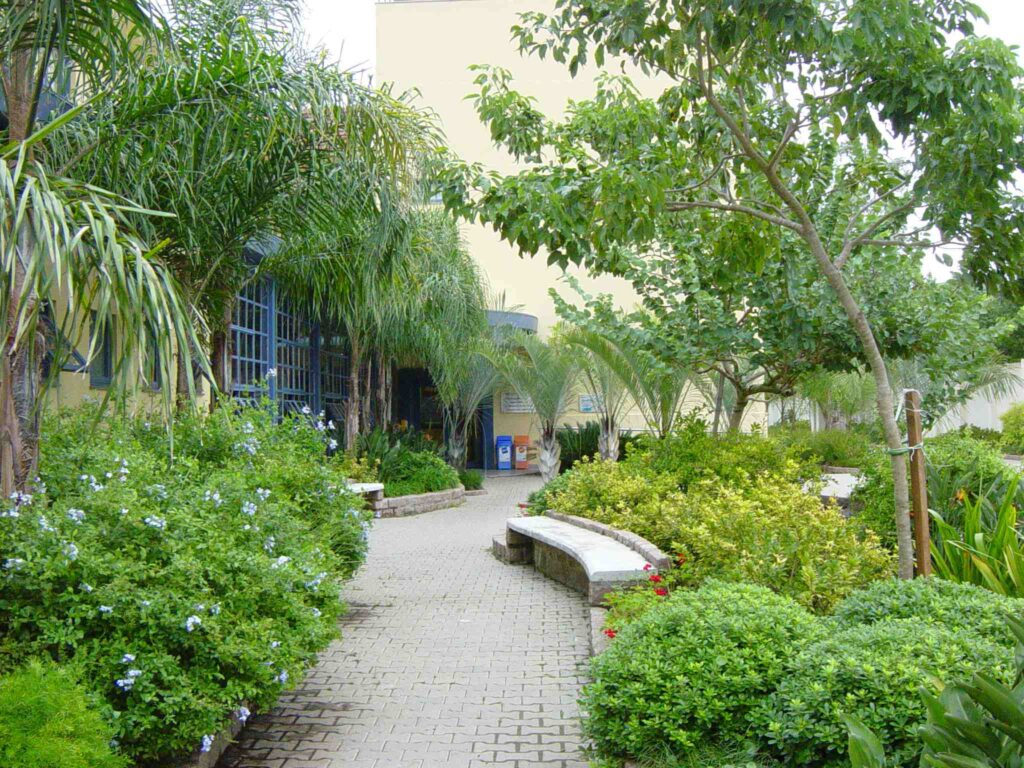 Collaborators rest in the garden at Sicredi – Garden and photo by Helena Schanzer
And for inspiration, check out Monet's garden bench in Giverny, France: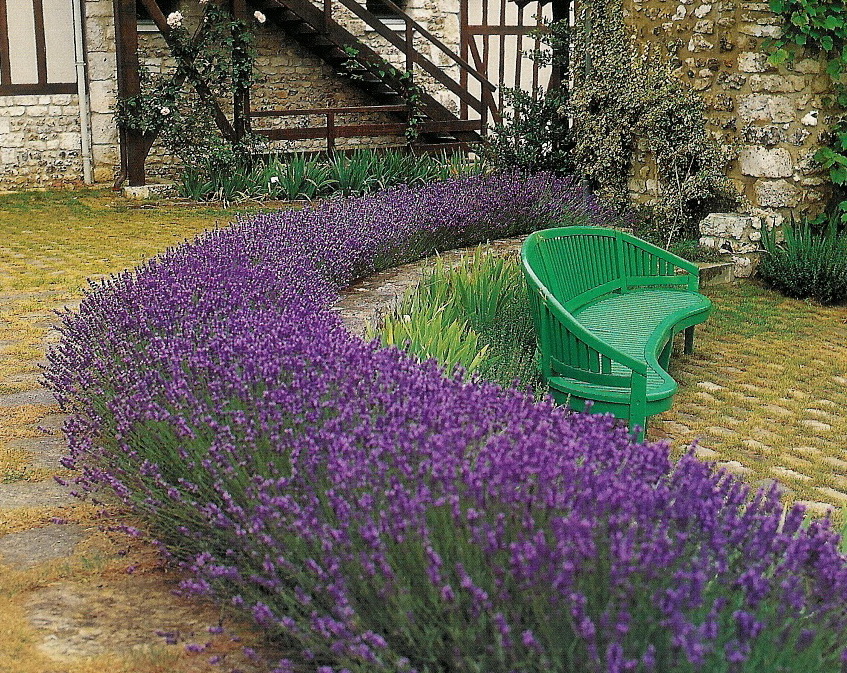 Garden path ideas
Well-designed garden paths with interesting plants make all the difference. I selected gardens that I created that have paths with different floors and lined with plants for you to be inspired.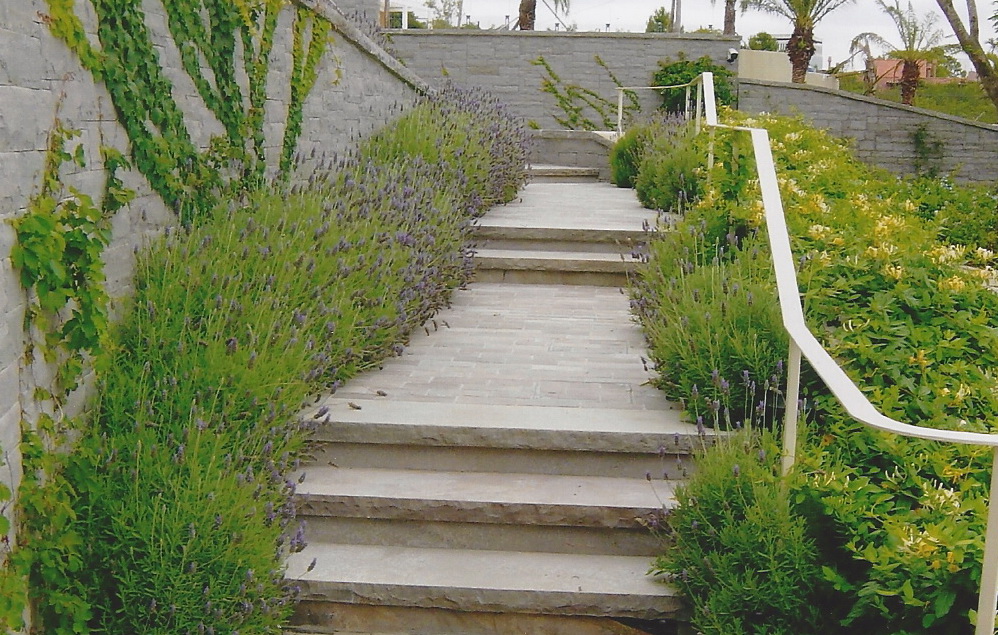 Basalt path with cypress, cycad and agapantus – Garden and photo by Helena Schanzer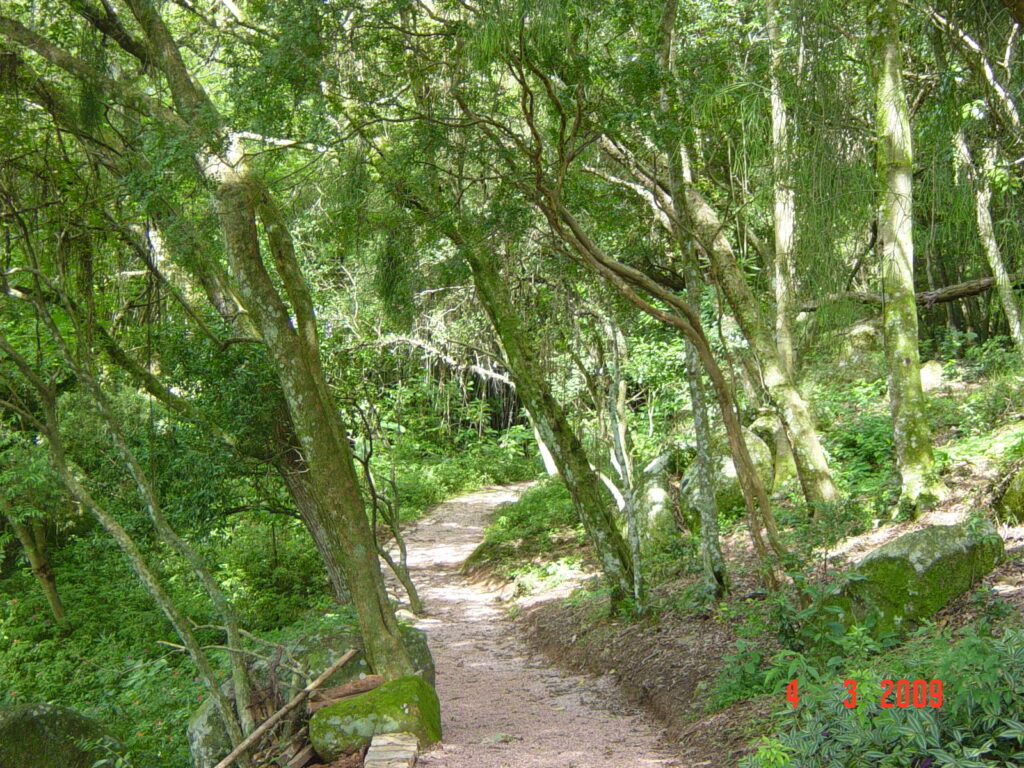 Trail in a permanent preservation area in a garden condominium and photo by Helena Schanzer.
The flowerpot is the bank Photo: Helena Schanzer.
The garden starts on the sidewalk, see ideas
A pleasant city that welcomes its inhabitants has tree-lined and landscaped streets. In a tropical country like ours, trees are essential to guarantee mild temperatures. See sidewalk ideas that I created in landscaping projects where the garden starts on the sidewalk. Imagine a street with planted fruit trees – maybe pitangueiras! This is the city we want, with safe and well-maintained streets.
Sidewalk on Avenida Mauá, garden in partnership with arch. Angela Ungaretti and photo by Helena Schanzer
Gardens: tips to make outdoor spaces more beautiful
Gardens: wonderful tricks and ideas to transform open spaces and make them more beautiful
The gardens are places to there special. Anyone who has such a space at home is very lucky. This is because, in open areas, people can better rest, breathe the fresh air and socialize with family and friends in unique moments.
In addition, plants offer many benefits for your physical and mental health. However, they do not always receive the care and attention they deserve.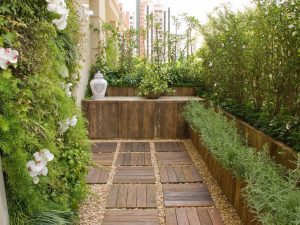 This photo belongs to the Diverse Projects of the Garden environment project.
Decorating open spaces – Tips for gardens
Furniture
The person who wants to make the most of this proximity to nature must create corners in the garden. To sit, admire the landscape, read a book and receive visitors, there is no lack of furniture.
On the market, there are pieces in different materials, such as wood – unless indicated – aluminum and plastic. The important thing is that they are resistant and easy to clean.
There are several good ideas – simple and practical – that anyone, with little investment and dedication, can put into practice to improve the look of the gardens.
Examples of garden furniture side tables, chairs, armchairs, drawers, sun loungers, hammocks, boxes for storing logs, sideboards, umbrellas, and others.
Now, it should be noted that those who are unable to purchase new parts can bet on old parts.
When well painted and varnished, they are capable of composing, with the same beauty, corners of welcome and rest.
They may be in the spotlight, amid new pieces – supporting vases, for example, or gaining a new utility, such as wheelbarrows used as flower boxes.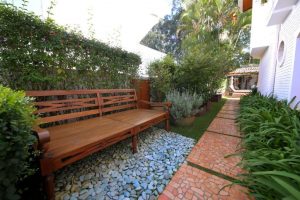 This photo belongs to the Jardim Marajoara Residence project of the Jardim environment.
Plants and flowers
There are dry gardens, that is, without plants. But, the beauty and delicacy of natural species is never too much. The most beautiful open spaces present, precisely, many plants and flowers.
If the available area is reduced, an infallible decoration idea is the use of pots and planters. The sum of several cultivated species creates outstanding points within the scenario, as a whole.
The pots can mark flowerbeds, paths and accesses to the building. They can also be accommodated vertically, forming a true green wall.
This type of garden is very practical – they can even have holes for draining water. They also bring many benefits to the home, such as humidity control and acoustic and thermal protections.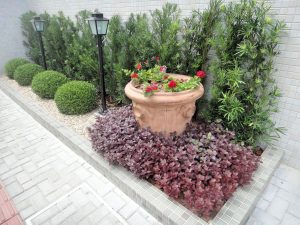 This photo belongs to the Leisure Area – Ed. Villa Veneto project of the Jardim environment.
Those who want to set up a simpler vertical garden can choose specific or alternative materials.
Some cement blocks are specially developed to accommodate plants on walls. But demolition pieces, like old shutters, adapted to accommodate flower pots, also work. Plants in this case are indicated by ferns, ivy and monkey hands.
It is important to know all the species and look for the most appropriate techniques for planting. Also the type of soil and pots available.
Any style or size of land will require care. Plants will need watering, fertilizing, pruning and natural light to grow healthily. All of this must be taken into account when planning the garden.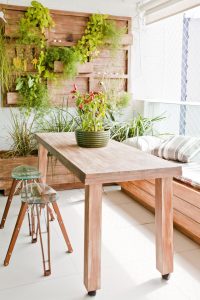 This photo belongs to the Apartamento V project of the Varanda environment.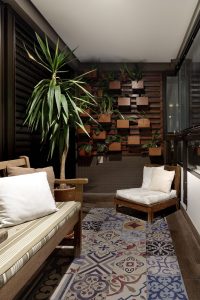 This photo belongs to the Sumaré project of the Jardim environment.
Decorative objects
To enhance the beauty of the gardens – of their furniture pieces, vases, plants and flowers – decorative objects can be added to the set.
Some accessories are well known and easy to purchase, such as fountains, wind chimes, fireplaces, showers, tents and others.
There are already those that are the fruit of the residents' creativity.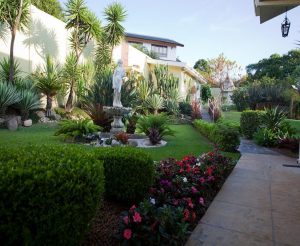 This photo belongs to the Garden Landscaping Projects project.
The unusual items – besides being economical – can be transformed into cheerful and relaxed ornaments for the gardens, reinforcing the artistic concept of the space.
Examples are galoshes, tires, kettles, soup ladles, glass cups, cups, canning jars, cans, vegetable crates, and pallets.
Other additions
Gardens filled with flower beds have more beautiful and delicate looks than dry gardens. But, to move between the flowerbed areas, enjoy the view and rest, there must be paved and even covered areas.
These paths can be made of wood, tile or stone.
To highlight the route, it is interesting to make scores with luminaires – those with solar panels are the ones with the lowest maintenance.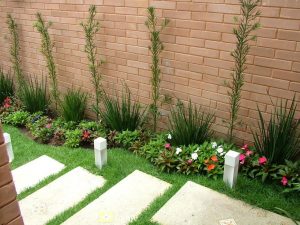 This photo belongs to the Diverse Projects of the Garden environment project.
The presence of wooden decks, gazebos and pergolas brings warmth, elegance and enhances the natural and magical aspect of the scenery.
Pebbles around the flowerbeds are beautiful additions to the decor, marking the margins and contrasting plant floors.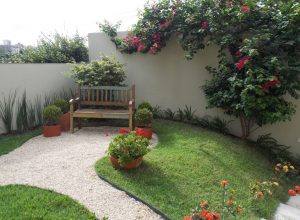 This photo belongs to the Comfortable Garden project of the Jardim environment.
And the addition of water, in small ponds and fountains, is the final touch of style that can be given to the garden – especially if you have some fish.