Who will argue that flowers are a wonderful decoration of the garden, some even plant the garden in order to grow them. But at the same time, the construction of flower beds is associated with significant material costs and very troublesome care. We will tell you how to create the most versatile of them – a mixborder and a raised flower garden, as well as the flowers that will decorate the garden with minimal care.
Flower beds from annuals are especially bright, they are well suited for ceremonial places, however, their arrangement requires an annual investment of time for growing planting material from seeds and buying seedlings in large quantities is quite expensive. With a shortage of time, effort, and money, it is more rational to lay flower beds from perennials in a small garden.
Among the elements of the flower decoration of the garden, flower beds with regular and landscape layouts are common. The first ones usually include flower stalls, flowerbeds of regular shape, linear flower beds – borders, and rabatka. Landscape flower beds combine mixed borders or mix orders, groups, and massifs in a natural style imitating a section of a flowering meadow, prairie, or shady forest edge.
Mixborder
Plants in mixborders are placed according to the usual principle: shrubs and tall flowering plants – in the background, low – forward.
To enhance the effect of the constant attractiveness of the flower garden, you should have an idea of ​​the timing of flowering of different species and varieties of plants. In mixborders, it is advisable to use decoratively stable species that allow you to form a dense, durable and colorfully saturated floral cover.
Colorful annuals maintain a constant holiday atmosphere. In diverse combinations, marigolds and alissum, marigolds and balsams, salvia and pansies, cineraria and petunia are used. Among biennials there are many interesting, besides tall plants, for example, stem roses, digitalis, mullein, or teasel. Peonies, geraniums, astilbe, daylilies, hosts, phloxes, cuffs and bells usually prevail among perennials in mixborders.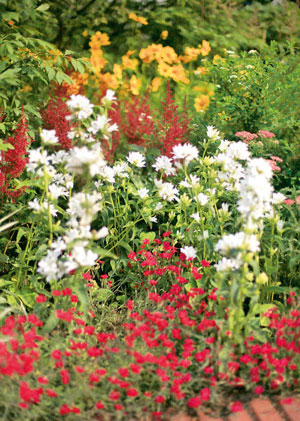 Ground cover, creeping herbs are widely used: thyme, sedum, saxifrage, young, low cloves and phlox. Ferns and ornamental cereals are becoming increasingly popular. At the end of the season, the magic of the color of autumn foliage of shrubs and perennials begins to gain strength.
Decorative and deciduous and beautifully flowering shrubs add brilliance of colors to mixborders: roses, rhododendrons, euonymos, barberries, derrens, wiegels, spirea, cinquefoil, mock-ups, actions and magnificent buddles. Absolute hits in mixed flower beds of hydrangea are tree-like and panicled different varieties.
Along the paths, along the perimeter of paved areas, and sometimes for bordering flower beds, rabatki and borders are planted from dense, relatively undersized plants: shrub aster, host, primrose, narrow-leaved lavender, ash gray fescue, stonecrop of a prominent and others.
Simple and complex care flowers in the garden
Those gardeners who do not have the opportunity to constantly care for flower beds in their area should probably limit the use of plants that need special care, require shelter for the winter, tying them to support, constantly cutting off faded blossoms, digging bulbs, frequent transplants and dividing the bush.
Examples of such perennials include tulips, hyacinths, delphiniums, phloxes, dahlias, eremurus, knifofii, tuberous anemones, non-stable groups of irises, as well as some lilies, daffodils and hazel grouse. It should also be borne in mind that many chrysanthemums, hosts, violets, rogers, thyme, kirengeshoma, ostrovsky, lavender and other flowering plants can also suffer from colds, frosts, winter bites by mice.
In small flower gardens typical of small gardens, planting of perennials should be avoided, especially prone to aggressive growth and the formation of countless seeds. Among others, we can mention the Caucasian butterbur, the shrubby donkey, red-brown geranium, aquilegia, some geraniums and bells, the ostrich fern, common varietal chickweed, the veronica filiform, the forms of the creeper, digitalis, and some ornamental cereals, such as the sandworm or sandworm.
For flower beds, which do not require much effort and time to care , you can primarily recommend perennials such as Volzhanka, Elecampane, Telekia, Buzulniki, aconites, peonies, incense, astilbe and hosts. The same list can also include goldenrod, veronica and veronikaruma, purges, wormwood, rudbeckia, loosestrife, nyvyanik, lupine, daylilies, geyhera, saxifrage and sedum, many ornamental cereals: lightning, miscanthus, pike, fescue, celery.
Among the herbaceous perennials, distinguished by the enviable constancy of decorative qualities, one can name astilbe and daylilies, sage and catnip, stakhis and crypt. Having a constant attractiveness of appearance, these plants are not aggressive and get along well with their neighbors in flower beds of various types.
Raised flower bed
To give originality to the infield, you can build not an ordinary flower garden, but raised. It provides a safe growth of flower crops in conditions when the soil on the site is waterlogged, thanks to it the care of planted plants is facilitated, the volumetric structure of the garden is complicated, and additional vertical surfaces appear. The raised flower beds, in addition, make it possible to show in all its glory creeping and ampelous plants with shoots hanging to the ground in an even area.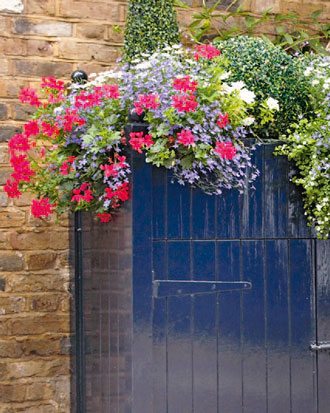 The raised flower bed, whether it be a flower bed from annuals or a mixborder, significantly changes the perception of the area of ​​the site where it is located. In a small garden, a raised flower garden can be very tiny, even a ceramic container or a large clay pot with flowers planted in it can play its role.
When constructing a raised flower bed, different materials are used to mount the wall or sides: natural stone (blocks of sandstone, dolomite, tuff or more dense rocks, flagstone), brick, clinker or wooden timber. The height of the design of the raised flower bed can be from 20-30 cm to 1 m, length and width are arbitrary, in accordance with the plan and features of the place.
On the site reserved for a mixborder or flowerbed, the upper 20-cm layer of soil is removed. A geotextile is laid on the bottom of the pit along the perimeter of the future structure, then a layer of medium-sized crushed stone 10 cm thick, which is carefully compacted, and a 5-centimeter layer of sand is poured on top and spilled with water.
Stone blocks or flagstone are laid sequentially on the sand, row after row, and if the flower garden is not high, then by the dry masonry method, otherwise a cement mortar is used. The brick is also placed on a cement mortar, while the lined walls are covered with tiles or sawn flagstone from above to protect against moisture.

Just one or two rows of stones will allow you to form a raised mixborder
The timber and other wood materials are treated with antifungal agents and isolated from the base and soil with sheets of roofing felt.
Inside the walls of the resulting structure, a drainage layer about 10 cm thick of crushed brick, gravel or coarse sand is poured, and on top is a soil substrate with a layer of at least 30 cm, as for ordinary flower beds.
For most perennials and annuals, a standard peat-based fertile soil is suitable, for "alpine" plants a soil mixture is prepared with a high content of sand and gravel, for decorative vegetable crops with the addition of compost and humus, for conifers, heathers, and rhododendrons, a soil with a generous admixture is needed coniferous land and horse peat.
Layout of the suburban area: where to place the house and everything else
Not everyone is ready to endure a hut and an overgrown garden in the country . After acquiring a summer cottage, many simply scratch their hands to plant and build something there. Where to start – first build, then plant or vice versa? Soil scientist Pavel Trannua in the book "Cottage from scratch" advises to begin the arrangement of the cottage with the layout. To figure out how to arrange the house and other buildings – taking into account future landings, of course. But nothing, especially fruit trees, yet to plant.
In which part of the plot is it best to position the house
If we are talking about the middle lane, then in a small summer cottage, the main structure should be placed from the north , otherwise the entire remaining area will be in the shade, and it will no longer make sense to grow apple trees or other fruit trees. The same can be said about the garden, about roses …
The fact is that today people have a habit, in addition to "grandiose" buildings, also blocking themselves with deaf galvanized hedges, which also create a shadow. In a small area of ​​3–6 hundred square meters, there is an acute shortage of landing areas for "normal" ones, i.e. the most numerous, sun-loving cultures.
If you plan to have a serious fruit orchard on your site , where there will be several seed and stone fruits crops, and even 2-3 varieties each, then proceed from the fact that the most advantageous place for all fruit trees is the place in front of the house on the south side , or the so-called front garden, since the rays of the sun reflected from the buildings fall on it. This place is very different in the amount of heat even from just open space, not to mention the shaded corners, so here all varieties get an advantage and have higher productivity.
What are the other conditions for choosing a home location? Usually they try to put the house on the highest place of the site in order to avoid strong flooding by groundwater. A good house means the ground floor in the form of a basement or at least a cellar, and it is protected from water by all possible means.
And what about the temporary entrance, because the building material will be delivered to the construction site?
If you have old or used boards at your disposal, then it is worth paving a temporary entrance for cars so that the wheels do not roll out the "dirt" so much – the place of your possible future flower garden or garden.
Rest zone
An outdoor dining area is more often located on the north or northeast side of the house to have breakfast in the soft morning sun and then spend most of the day in a saving shade.
For the construction of such a site there is no need to "dig a pit too" and even arrange a deep sand cushion under it with the removal of the upper fertile layer of the earth. Since in the future you can decide to transfer the site, and here to grow plants that prefer shade, it is prudent to lay the tile on a layer of sand, poured on top of a fertile layer to preserve it completely. In the buried (preserved) form, the primordial soil lies for decades, without losing its properties, and then it is easily included in crop production.
Outbuildings
They are also desirable to be located in the northern part of the plot, so that they create less shadow. If you choose between east and west, then the eastern side of the site should be open to the sun, therefore, farm buildings should be moved to the western part.
Often, outbuildings are located near the house, so that they form a single complex.
Place for installing a toilet and street sewage
This is a very important point. Both the toilet and the open sink pollute the soil with salt and soda and other detergents. Here, the accumulation of these substances proceeds at a faster rate than washing with spring water from snowmelt. Therefore, both of them are desirable to be located away from plantings and at the same time in the lowest part of the site, to take into account the movement of groundwater.
Artificial pond
Previously, it was customary to arrange a pond in the lowest part of the site so that the water could stand longer in the summer, but with the advent of durable film waterproofing it became possible to make a pond in any part of the site. Moreover, the lake can be made both dug and "external", i.e. with full bulkheads, which is more convenient for a complete drain of water for the winter.
When choosing a place for a pond in a summer cottage, it should be borne in mind that it should be enclosed by arches of trees or a high shrub on the south side, otherwise the water will bloom from excess sunlight. The role of shading, of course, can perform and buildings.
Indeed, the artificial pond in the estate is one of the convenient facilities for the rational use of shady places. So, a pond can be arranged among the crowns of fruit trees, where as they grow older it will be impossible to plant anything properly.
In this case, all the embankments are prepared first: both under the pond and under the trees (the latter, according to the principle, the higher the better, they can even rise above the water level on their embankments), and only then, after filling the pond with water, they buy in nursery seedlings of apple trees and other fruit trees.
"And if you still dig a pond without an underlying film, such as a fire pond, which were arranged earlier in all garden associations?"
A natural pond will constantly keep water only in really low areas. Water from a reservoir tends to go into groundwater all summer. In any natural body of water, the water level drops all summer, and after rains it rises again, and then drops again – and so it constantly fluctuates. In arid hot summers, the water in a shallow pond can completely disappear. Accordingly, the nymphs planted there in pots are exposed.
As practice shows, the most successful decisions on the planning of a summer cottage come gradually, so it's not practical to start all excavation work right away and turn the entire territory of a summer cottage into a quarry. It's more competent to start with the most necessary – with preparing a place for a house and outbuildings, where you definitely need to dig pits for the foundations.