It happens like this: roses bloom in your garden that were once planted by someone, and you really don't know what kind of varieties they are and what kind of care they need. Is it necessary, for example, to shelter them for the winter? And it happens that a bush or climbing rose in a neighboring area will amaze the imagination and want the same. We learn to understand the types of roses: what we have and what we want.
Due to external advantages, roses are used in garden design especially widely: they are applicable in all garden styles, combined with almost any landscape objects – both natural and architectural – and are accent plants. Even the whole garden as a whole can be dedicated to roses – and it will be a beautiful, interesting, memorable garden without any signs of monotony.
Choose roses depending on their use. There are several types of roses.
Hybrid Tea Roses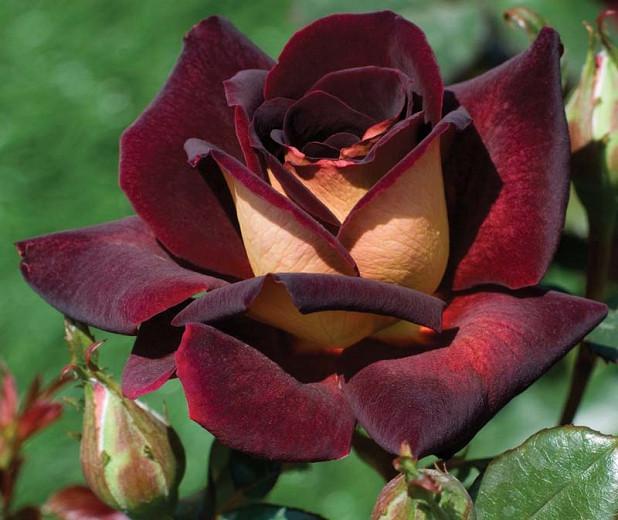 Classic roses are the most beautiful. They have very large flowers (10–13 cm in size), very remarkable, regular in shape, with a cone-shaped core, and they are single in location. The height of the bush is about 90 cm.
Hybrid tea roses have a strong aroma. The colors are the most diverse, there are even shades close to blue. The color and luster of the leaves also varies. Hybrid tea roses can be grown either as a bush or as a standard tree. These roses are the most demanding. To get such beauty, you need to try.
At the same time, tea roses have their own characteristics: they do not bloom repeatedly, flowers on the bush are quite rare. Therefore, it is better to admire such roses near and complement them with other flowering plants, which will take on the main role during the period when the roses do not bloom.
Roses Floribunda
Also very beautiful roses, although in appearance of the flower, they, of course, are inferior to tea hybrid. Their flowers are smaller in size, 5–9 cm, more "friable" in shape, arranged not separately, with brushes. They are less fragrant. The height of the bush is 60–70 cm; but there are low varieties, not higher than 45 cm. Such roses are suitable for growing in containers.
Roses of Floribunda have obvious advantages: they bloom all season, look very bright (brighter than tea hybrid), can be containerized, and most importantly – very unpretentious, not afraid of dampness, rarely affected by pests and diseases, quite frost-resistant.
Mini roses
They represent, as it were, reduced copies of ordinary roses. But in this miniature lies their charm. The height of the bush is 20–40 cm, the flowers are small, heaped, often double. The small size allows you to use these roses to implement interesting landscape ideas, for example, arrange rockeries with roses.
Typically, these roses are grafted, which allows them to maintain their small size. Bloom from mid-summer to autumn, quite a long time. The colors are very diverse: from delicate to very bright shades.
These roses, as well as hybrid tea, are quite demanding to care for: they require regular plentiful watering and top dressing, they do not tolerate dry air, are often affected by pests and do not like to be disturbed by their roots. They prefer open air, so they are completely unsuitable for home breeding.For some reason, mini-roses stubbornly continue to try to grow in the apartment. Here, their size plays an important role – it seems that these roses are "homemade". However, in the apartment they can live no more than 4 months.
Ground cover roses
Perhaps they are the most unpretentious – and at the same time very beautiful. The bushes of these roses seem to creep along the ground, releasing many shoots covered with hundreds of small terry flowers of various colors. As a result, the bush becomes like a blooming mound.
The height of the "hill" is from 20 cm to 1.8 m, and the width is from 1.5 to 2 m. Sometimes the flowering is so plentiful that leaves are not visible. It blooms all season, from June to frost. These roses do not need special care, watering and top dressing, like any other perennials. They tolerate dry air normally and, like all roses, need shelter; they are frost-resistant: they can withstand up to -35 ° C under cover.
Climbing roses
These are enchantingly beautiful roses. They look so luxurious not only due to beautiful flowers and plentiful flowering, but also because they are vertical. By itself, such a rose will not curl, it needs to be helped, periodically tying the shoots to the support.
There are roses that bloom very abundantly once a season. They are usually small-flowered with a brush-like arrangement of flowers. Such roses form a large number of thin shoots, it is more difficult to cut them. And there are varieties that bloom not so magnificent, but longer, constantly forming new and new buds. These roses are large-flowered, and they are spectacular due to the size of the flowers. They have thicker shoots, they are not so "mixed up".
Contrary to popular belief, a climbing rose is not very demanding, the main thing is to warm it well for the winter. To do this, it must be removed from the support and placed in a shelter. This, in fact, is the whole difficulty: it is difficult to remove the rose from the support.
Shrub roses
This is the least common type, although it deserves wider use. Although these roses are less decorative than all of the above, they practically do not require leaving, and for many corners of the garden, especially uncomfortable, they are irreplaceable.
In appearance, these roses resemble high rose hips, but they have more beautiful flowers, usually double ones. The bush is very tall, at least 1 m high. Flowering is mostly single, the flowers are lush, fragrant.
In general, this rose has a shade of country or eco style, it is such a natural image. It can also be used for landscaping the outer territory beyond the perimeter of the site, as well as for hedges.
Best neighbors for roses
Not any plants are combined with roses, since roses are very elegant and have a special texture. Flowers planted next to roses should emphasize their beauty, serve as a suitable style for the background and in no case argue with the queen of the garden.
Here are some plants that can be a worthy addition to a rose in compositions, flower beds, mixborders: delphinium, digitalis, bell, mallow (stem-rose), Italian aster, purple stonecrop, rudbeckia, panicled phlox, giant onion, daylily, Turkish clove, cosmea, cuff, woolly cleaner; at some distance you can plant a gypsophila.
Preparing roses for winter
For the winter, roses are sure to be covered. There are many different ways to do this, but not all of them are equally good, as the rose is also very afraid of undermining.
Rosa needs a warm "house" for the winter, but with good air exchange. In principle, the type of house is the same for climbing roses, and for all others. The best option is a wooden box plus a dense two-layer spunbond on top. Such shelter is both warm and breathable.
Instead of a wooden box, you can use a cross-mounted garden designer, pull on it two layers of dense spunbond, and on top – a plastic film.
They do nothing with ordinary, bush roses, and the climbing rose must first be removed from the support (this is the most difficult thing – it pricks significantly). Therefore, it is better to purchase a flexible special support for it, which can be removed from the main support (arches, arbors) and stacked with a rose. Then cut the shoots by 1/3, curl them up and lay them in a "house" on a layer of sawdust or a spread sheet of polystyrene foam.
Austin Roses at the best price
All roses are planted in a container of 5 liters, carefully grown, bloomed and some on the buds yet.
Pick up daily in Golyanovo, Kuzminki evening by appointment, Volga on Saturdays.
Live photo: Varieties: GERTRUDE JEKYLL 4 pieces 750 rubles each. One of the best and most popular varieties of David Austin. The flowers are saturated pink, in the center pale raspberry, fade to pale pink at the edges. They open wide, showing a mass of small petals, sometimes forming a quartered center, and occasionally show golden stamens. Flowers appear in small brushes of 3-5 pcs. The aroma is very strong, from the petals of Gertrude Jakyll make essential oil for perfumes.
Wollerton Old Hall 2 pieces for 800 rubles.
New in 2011. The variety was named after one of the most beautiful private gardens in the UK, which is located next to the Austin garden.
The rounded terry flower (26–40 petals) initially has the color of butter and, as it dissolves, gradually brightens, reaching a light cream. The aroma is saturated, with notes of myrtle. The rose blooms very long, almost continuously throughout the season.